In your EW guides, section one is all about genre and author's purpose. For me, this is not a skill I teach at the beginning of the year and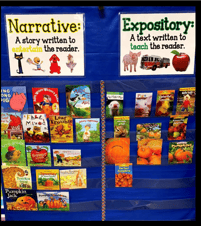 then never talk about again! I want my students to always be analyzing what they are reading, prior to when they read. This creates strategic readers and confident writers.
One of my kindergarten teacher friends started this book sort for her sweeties. Before she would read a book to the students they would study the title and cover to determine genre and author's purpose. She would ask them questions like, "What do you notice about the pictures?", or "Is the main character's name in the title?" Before long, her students could tell you if the book was narrative or expository, and if the author's purpose was to entertain or inform... IN KINDERGARTEN!!!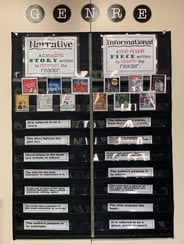 I knew I wanted to use this same idea in my classroom at the middle school, so I developed a genre sort for my students to use throughout the year, What I love, is that every time I share a book or article, it has become instinct for my students to begin analyzing the title and cover without even being asked!
FYI: This is not a one and done lesson. It is a chart that you will keep up all year and add to it as you share books in your room. Depending on your grade level, you could switch it out monthly, OR AS OFTEN AS YOU NEED, to accommodate all of your reading.
This lesson is everything you need for any classroom/grade level, minus the pocket chart:)! Just download, print, laminate if you want, and VOILA! Your genre sort is ready to go. I have included six fiction/nonfiction book cover pairs that my students LOVE for you to use. These are just examples/ideas for you to get started with. I encourage you to print covers of any book that you read in your classroom too!
To purchase this resource using Paypal, click the image.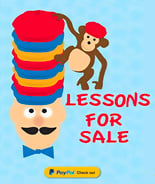 $3.50
To see all the of the lessons available for purchase, click here