Test Prep: Creating Voice in Writing
by Kylene Reed, on Mar 12, 2020 11:35:37 PM
Creating writers who stand out by their unique writing choices is important. A writer's tone, choice of words, subject matter, and sentence structure all play a part in creating an author's voice. How an author writes conveys their attitude, personality, and character. Sometimes, I am able to identify my student's writing by their stylistic choices before I even flip it over to see their name on the back.
This week, my students have really stepped up the game as far as growing their author's voice. We have been working through the March lesson of the month, which focuses on quick writes. Now, in the beginning I was skeptical, thinking that my students would not be able to actually complete an elaborated paragraph in ten minutes or less, but boy was I wrong. It is like all of the skills that I have been teaching them in isolation throughout the year came together in those few minutes.
There were a few tears, laugh-out-loud moments, and just times of silence as we shared our pieces today.. It was an A M A Z I N G day in class:)
Here are a few of my samples. At the beginning of class, I modeled the first google image of a guitar being played. The goal of the quick write is for the students to create the back story behind the picture. Anything they felt inside as to what the picture represented. Each quick write lesson I do, I introduce a new sensory adjective that I want the students to reflect on and use in their writing.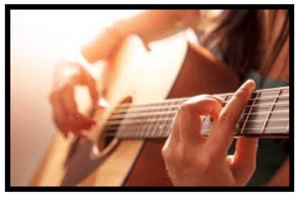 For this picture the prompt was calloused. We talked about how many different things just in this picture could represent that word. Her fingers, heart, mind, feet from traveling, etc. We also talked about where we could get inspiration from- pulling ideas from songs they've heard, experiences in their life, book characters that they might connect to. Then I talked about how I thought this image represented the girl's journey to becoming a musician. I modeled how to write a descriptive segment using the image, the sensory adjective, and my personal thoughts behind the picture.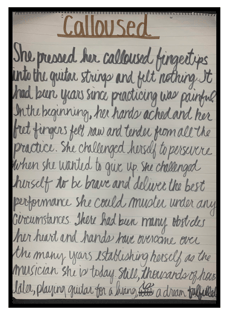 Now, I was kinda proud of how well mine turned out 😂 I always feel the pressure when I stand up and model a quick write, because it is not fair to the students if I have practiced writing my sample out before. I want it to be authentic and for my true feelings and emotions to be observed during the process. So, we put my sample together and then I had the students get to work in their table groups.
They used the same prompt and picture and then wrote what they thought the story behind the picture was. Let me tell you... mine didn't hold a candle to some of their writing. I had tears in my eyes as I listened to each group share. Not because they were all sad, and there were some sad ones, but because I was so proud of the writers they have become this year.
Here are a few samples from this lesson: And if you have not downloaded it yet... CLICK HERE!!