April 2020 Grades 6-8 Lesson of the Month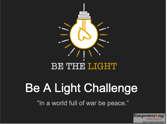 This month, connect on a meaningful level with your students as they spend their days and weeks at home. Through the song "Be A LIght" students will make connections to common literary themes in the books you have read in your classrooms, experiences that they are going through now, and ways that other people are helping each other get through this pandemic. This lesson can be split into as many days as needed and also includes a video of all instructions as well as Kylene's inspiration for the lesson. All components of the lesson including the video on slide 2 can easily be edited to fit your needs or include your own personal video to your students.
Be A Light Lesson Notes:
Students will watch the online music video (embedded video) "Be A Light" by Thomas Rhett. Students will then determine the common theme in the song through a series of google slides that include defining the theme, connecting through images, other song lyrics, literature, and personal experiences. Students will also apply the detail generating questions "What does this theme look like" and "Why is it important" to help them create a deeper connection to the theme.
Supporting Resource: Grade Level Narrative Writing Guide
Section 1- Theme in Story
Lesson Format: Google Slides