April 2022 Grades 6-8 Lesson of the Month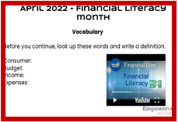 This month students will learn financial literacy as they research how to be a wise consumer. This lesson includes math, research, shopping and writing. As students go shopping for a popular item, they'll learn to weigh the pros and cons of purchasing the item, and have to make a choice that keeps them within their budget. In the end, they'll write a paragraph about their findings and make their final choice. The Empowering Writers skills, developing a pro/con list and writing a yes…but statement to compare aspects of an issue, or an item in this case, are the focus skills.
..........................................................................................
For more lessons like this see the Empowering Writers Argumentative Guide. Section 3: Audience Awareness - Pro/Con - Know Both Sides of the Issue and Pro/Con - Evaluating the Arguments of Others.
Don't have the HUB, sign up for a trial to see more lessons like these.
Want to see this in our printed Narrative guides? Click here.

Want to see this in our printed Informational guides? Click here.