Detail Generating Questions- Grade 1 Sample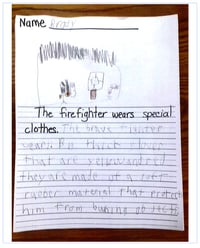 Firefighter
Grade 1 Informational/Opinion Writing
Feedback for Improvement:
Topic: Firefighter
Main Idea #1: Special Clothes
What worked:
Informational Writing: This student can sort information into a category or topic provided and writes facts and description. There is also evidence of what does it look like and why is it important to a firefighter in reference to a sentence provided by the teacher. The firefighter wears special clothes...

Feedback with Prescriptive Lesson:
CHOOSE a Focus Skill:
Sorting details on the topic: This student could benefit from a teacher directed lesson on dividing those special clothes into pants and shirts (student described the way they looked and why they were important to a firefighter), boots (black rubberized boots to protect his feet as he walks through extremely hot surfaces), hats (hard hat in red and yellow to protect the firefighter's head from falling objects and heat), gloves etc., which are details specific to a firefighter. This student obviously has been taught the skill of elaborative detail (detail generating questions) and might just need to be extended by helping them to create more detail about a firefighter through the informational pillar.


Recommended Resource
Downloads
"Firefighter" Informational Writing Grade 1 Sample