Informational Writing- Grade 4 - Japanese New Year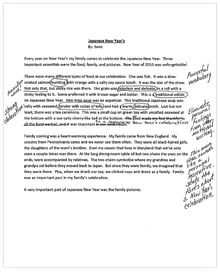 (Click image to download sample and feedback)
Informational/Opinion Writing
Grade 4 Sample
Japanese New Year's
Feedback for Improvement
Topic: Japanese New Year
Main Idea #1: Food
Main Idea #2: Family
Main Idea #3: Pictures
What worked:
Organization: This piece included an introduction and three main ideas. However, the essay was incomplete - almost as if the student ran out of time.


Main Idea Sentences: The student includes a main idea sentence for each main idea paragraph written. The main ideas are broad yet distinct.


Elaborative Detail and Powerful Vocabulary:

Excellent use of the Detail Generating Questions along with powerful word choice: "slow cooked salmon bursting with orange", "grain was colorless and delicate", "tender with cubes of tofu", "warm, delicate broth".
Feedback with Prescriptive Lesson:
CHOOSE a Focus Skill: What skill will make the biggest impact for this writer?
Introductions: This piece needs an effective lead. The topic sentence was well written.
Section 5 Lesson 1: Leads and Topic Sentences
Section 5 Lesson 2: Writing an Attention-Grabbing Lead
Conclusions: Needs to include a conclusion that sums up the entire piece.
Recommended Resources