Narrative Writing Sample- Grade 4- Frogs in the Pool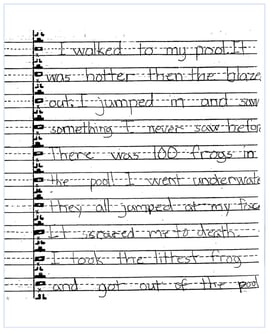 (Click image to download sample and feedback)
Narrative Writing
Grade 4 Sample
Frogs in the Pool
Feedback for Improvement
What worked:
This is a story with a beginning, middle and end – student understands the essence of story
It is a logical story that a reader can follow
Can you summarize this story?
This is a story about ______________.
The problem/adventure was _____________.
The problem was solved/adventure concluded when ___________.
Feedback with Prescriptive Lesson:
CHOOSE a Focus Skill:
Elaborative Detail: Understanding the difference between general and specific details and being able to generate specific detail through the use of the productive questions.
Awareness lesson - General or Specific?
Understanding the difference between general vs. specific details
Creating Elaborative Segments – in particular: Questioning techniques - Productive Questions for Modeling Elaborative Detail
Hot summer day - I know it is hotter than the blazes out...what else do you see, hear, feel?
Pool full of frogs-be specific what do you hear, what do you see? (Eyes? Skin? Ripples in the pool? How were they moving?)
What do feelings look like?

Showing or Telling?
It is stated in the story that the character was scared. What does scared look like?
Main Event: Needs a mix of action, description (elaborative detail), dialogue, thoughts and feelings. Again, by asking productive questions throughout this section the Main Event would be stretched out.
Comparing Summaries and Fully Elaborated Main Events – awareness lesson
Main Event – model and Guided Practice

using the menu of main event techniques with the productive questions for each
Extended Endings: The ending in this sample is missing. In a nutshell, we know that the character took the littlest frog home. Including a memory, a hope, a wish or a decision would wrap up what was stated throughout this story.
Analyze the Ending – awareness lesson
Extending this Ending – Model and Guided Practice using the menu of extended endings with the productive questions