Personal Experience Narrative Sample- Grade 5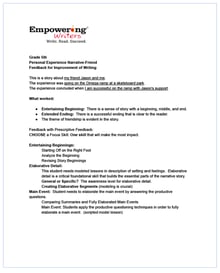 (Click image to download sample and feedback)
Personal Experience Narrative
Grade 5 Sample
Jason

Summarizing Framework
This is a story about my friend Jason and me.
The experience was going on the Omega ramp at a skateboard park.
The experience concluded when I am successful on the ramp with Jason's support.
What worked:
Entertaining Beginning: There is a sense of story with a beginning, middle, and end.
Extended Ending: There is a successful ending that is clear to the reader.
The theme of friendship is evident in the story.
Feedback with Prescriptive Feedback:
CHOOSE a Focus Skill: One skill that will make the biggest impact
Entertaining Beginnings:
Section 2 Lesson 1: Starting Off on the Right Foot
Section 2 Lesson 2: Analyze the Beginning
Section 2 Lesson 3: Revising Story Beginnings
Elaborative Detail: This student needs modeled lessons in description of setting and feelings. Elaborative detail is a critical foundational skill that builds the essential parts of the narrative story.
Section 3 Lesson 3: General or Specific? The awareness level for elaborative detail.
Section 3 Lesson 5: Creating Elaborative Segments (modeling is crucial)
Main Event: Student needs to elaborate the main event by answering the productive questions.
Section 5 Lesson 1: Comparing Summaries and Fully Elaborated Main Events
Section 5 Lesson 2: Main Event- students apply the productive questioning techniques in order to fully elaborate a main event. (scripted model lesson)
Recommended Resources