Analyzing Your Students' Introductions
by Kylene Reed, on Feb 13, 2020 7:00:00 PM
It is that time of year, where we are beginning to put full pieces together, and I have been working with several grade levels the last two weeks writing introductions. As writing teachers, we know the importance of making a great first impression on our readers as they begin to read what we are writing. How do we get our students to hold themselves accountable for using the tools that we give them in order to do so? I have really worked hard this year to have my students be the ones who are grading and analyzing their own work. By using EW's skill rubric, it has helped to cut down the time spent grading and more time to actually teach. This rubric is organized by skill on a four point scale. Students can look at each point and then note the specific skills that they are missing in their piece. IF you do not have this rubric, it is great when you are teaching skill by skill. Download Rubric Here
After my students wrote their introductions, I had them annotate them just as we do when we annotate a published piece. They underlined, highlight, wiggly line all of the components that they use in their intro. This helps them to see what they are missing. **Side note: If students are missing any components, I allow them to revise and edit their intro with red to include anything that they caught themselves. As long as they go back and add it then I do not count points off. I want my students to write an authentic lead using one of EW's menu for leads (anecdote, quote, statistic, question, amazing fact, or descriptive segment), introduce the topic, and list the main ideas with informative verbs. These skills are what push my students from a 3 to a 4 on this rubric! If you are not familiar with these skills, be sure to check out the introduction section in your Informational/Opinion Writing Guide.
Remember... model, model, model. I do this same procedure on my introduction that I wrote in my modeling piece, purposefully leaving out a key component for them to help me go back and add. Look... it is U-G-L-Y, but this is what I want my students to see. The writing process, when done correctly, is messy! We don't want it to be perfect the first time around.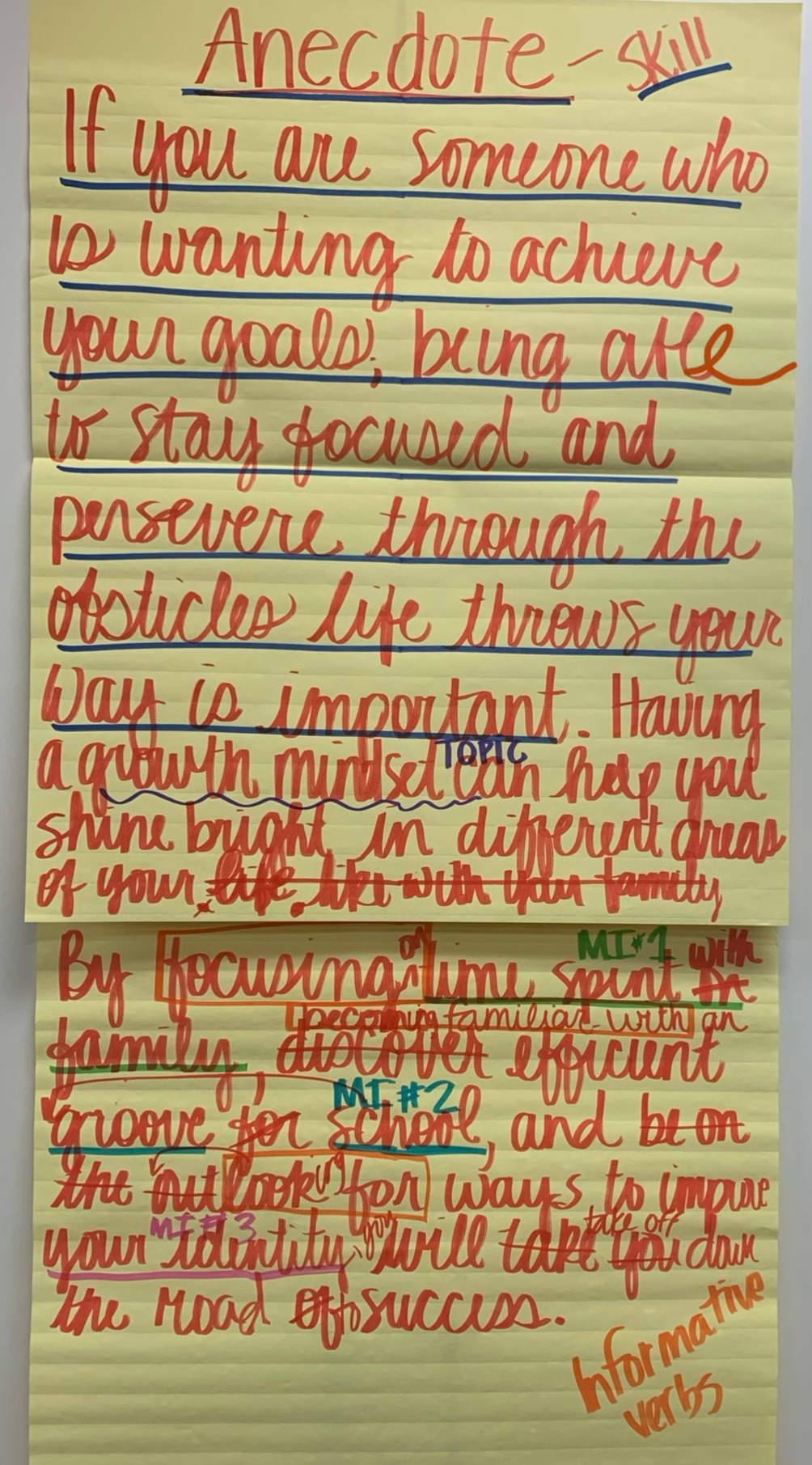 I feel that this is really making a difference in the students noticing what they are missing in their writing and then revising and editing to correct it, which is SO much better than me pointing out what they are missing. Here are a few examples of what my students' intro looks like when they turn them in for me to grade!